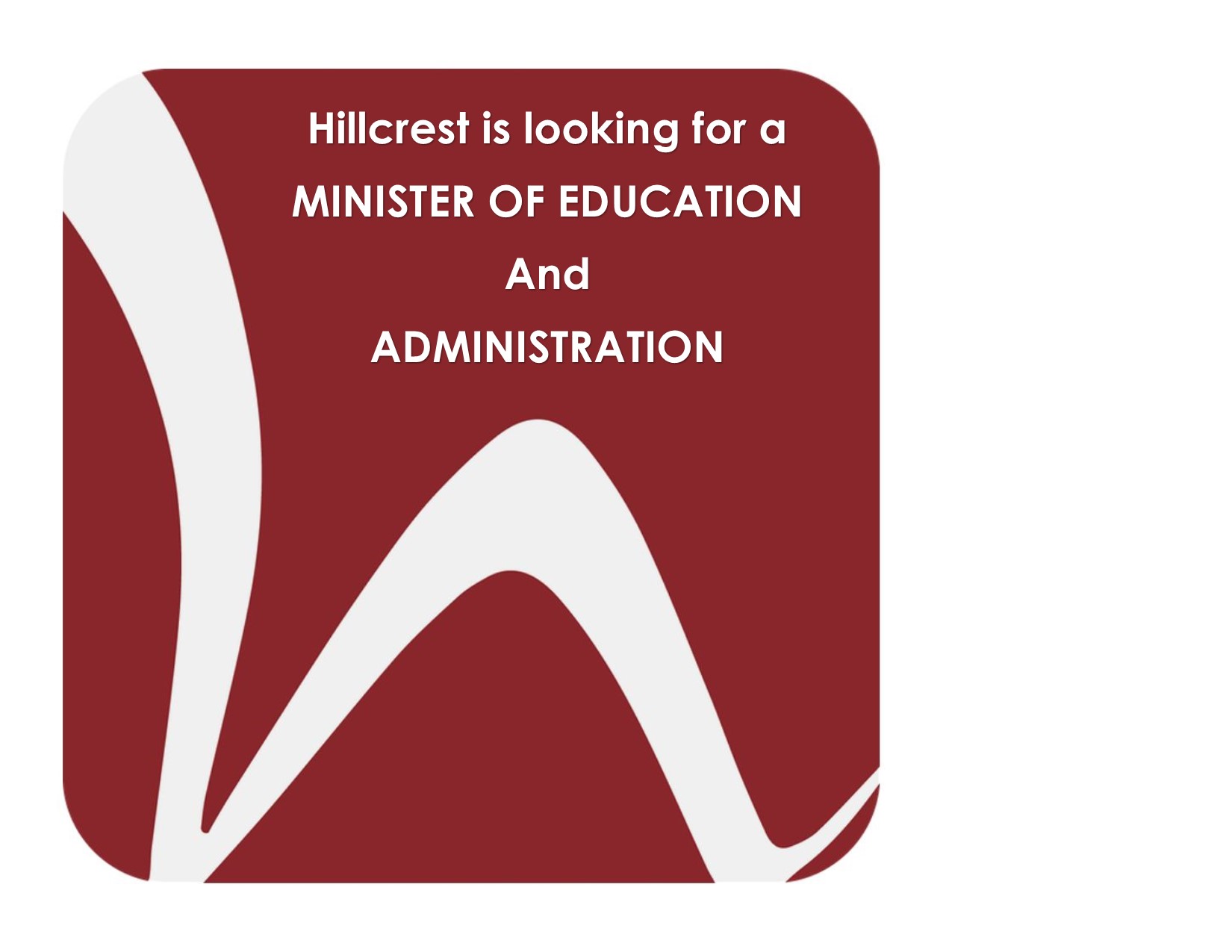 Hillcrest Baptist Church is seeking a Minister of Education and Administration. The job description is as follows:
Minister of Education and Administration

Job Classification: Ministerial Staff Position
Reports to: The Pastor
Position Type: Full-time
Work Hours per Week: 40+
Minimum Education Required: College Degree
Eligible for Benefits: Yes
Qualifications/Experience Preferred: Ten Years of Christian Ministry experience, a seminary masters degree, background in youth ministry or supervision of youth ministry, and background in administration.
Salary: Amount approved in budget. Additionally, a mobile phone plan is provided, and health and retirement benefits.
The Minister has the responsibility to help us fulfill this value in the following three areas.

Create Adult Discipleship Opportunities
The Minister will demonstrate a commitment to the discipleship that Jesus calls us to, and will develop opportunities that mobilize our adults to become better disciples.

Supervise the Leaders for Children and Youth Discipleship Programs
The Minister will supervise the children's ministry leadership and youth ministry leadership as they arrange the volunteers, resources, and promotion for activities that develop young disciples. The Minister will provide the accountability, encouragement, andmentorship these leaders need, will direct them to resources and training for their development, and will fill vacancies in these positions when they arise (in keeping with the established procedures of the church).

Administer the Resources of the Church
The Minister will be responsible for the church's financial and material resources, by supervising paid and volunteer personnel as needed to accomplish these things.
The church is part of the Southern Baptist Convention and ascribes to the Baptist Faith and Message 2000. Applicants most likely to be considered are those with a background in SBC schools and work experience in SBC churches. To apply for this position, a resume to our ministry assistant, Lisa McClure.