Welcome to Hillcrest Kids!
At Hillcrest Kids we welcome all children and give them a safe place to belong and build a relationship with Jesus, to learn to serve others, to create lasting friendships, and to go share God's love with the world.
"Therefore go and make disciples of all nations, baptizing them in the name of the Father and of the Son and of the Holy Spirit, and teaching them to obey everything I have commanded you. And surely I am with you always, to the very end of the age."
Matthew 28:19-29 NIV
Hillcrest Kids happily serves newborn through 5th grade aged children on Sunday mornings in childcare, Kid's Church, and Sunday school.
PROGRAMS
Kid's Church – Imagine a church just for your kids where they'll worship, dance, play silly games, and learn all about their Father God who loves them more than they could ever imagine... that's what we do every Sunday at Kid's Church! For 2019 we are learning from Group's "DIG IN: Life of Jesus" curriculum and will spend an entire year learning about the life of our Savior Jesus Christ!
Sunday School – Your kids will meet in age-specific groups and discover how to connect God's Word to their lives in an intentional way. Sunday school meets every Sunday at 11:15am in our Children's Wing.
Kids Only Nights - Every two months, children get to enjoy a fun theme night and parents get an opportunity to fellowship with other adults or just enjoy a night together! This event is for children birth - 6th grade. Cost is $5 per child.
SPECIAL NEEDS MINISTRY
We desire to be inclusive to children of all abilities and will do our best to provide any accommodations your child may need.
For more information on any of these programs, please contact our Children's Minister, Karen Oden ( or 512-345-3771).
Wednesday, June 12, 6:00pm-7:45pm
Hillcrest Kids Second Wednesdays: Color War!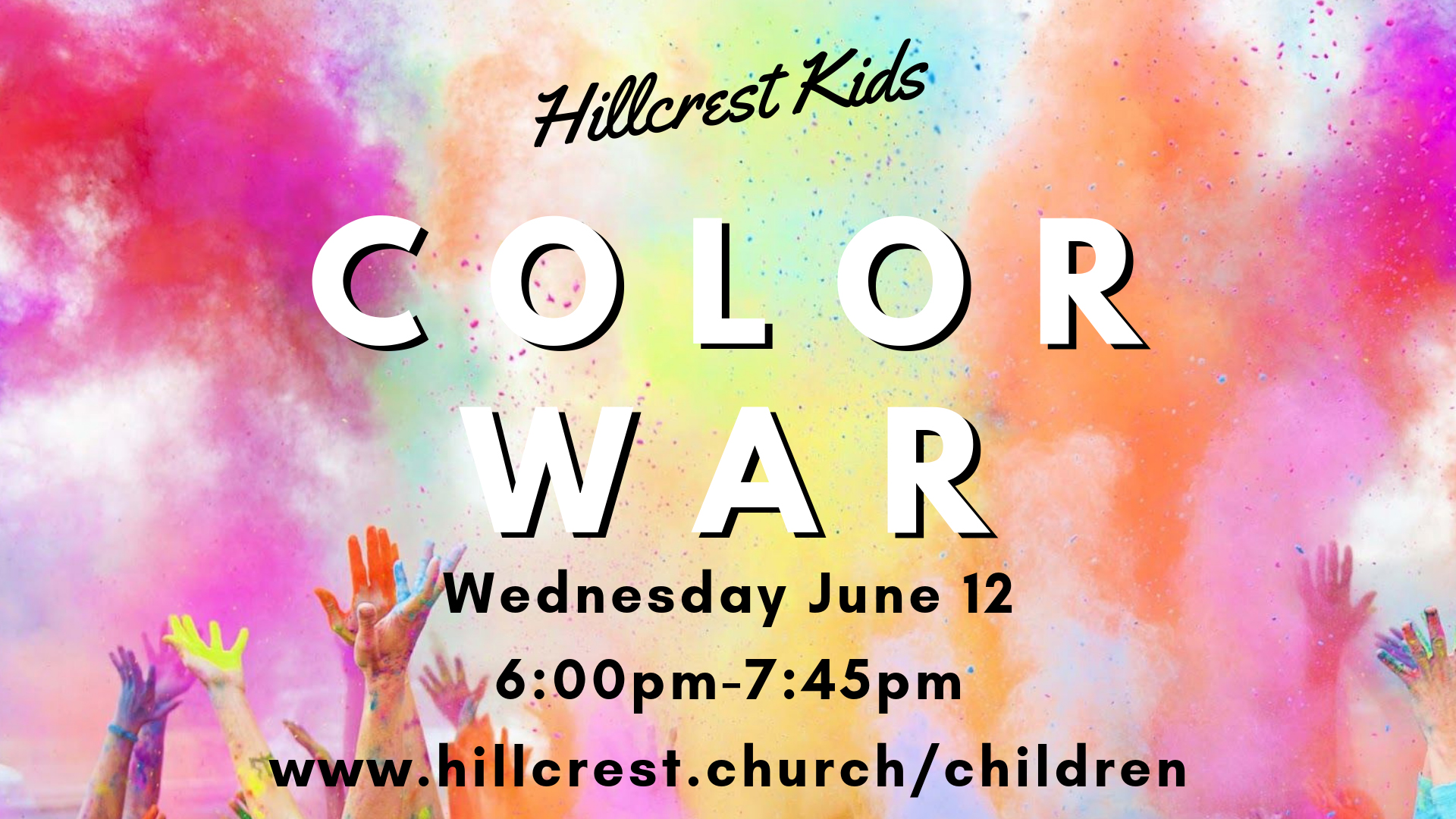 Get ready for silly, messy fun! Wear a white shirt and shoes/shorts that you don't mind getting dirty. We're adding a colorful twist to Capture the Flag as we kick off June! Join us for worship, a lesson on joy, and an evening full of laughs!
Elementary aged kids only. This event is FREE!
Email Karen if you would like to volunteer.
Sign Up for Camp Below:

June 17-19, 9:00am-3:00pm (with extended care option)
Camp Hillcrest Kids!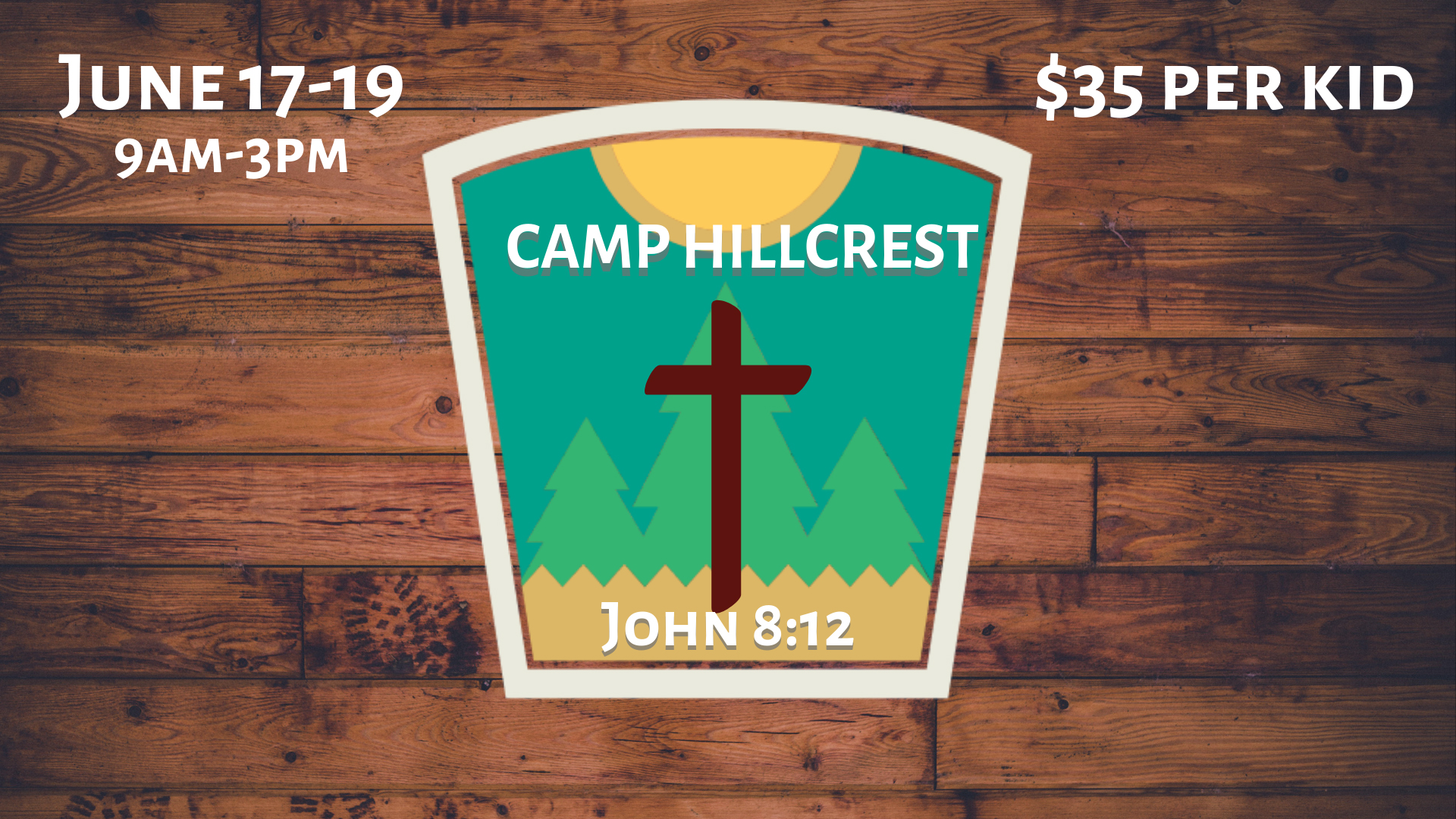 At Camp Hillcrest kids will discover that Jesus is the light of the world through our camping adventures! Camp Hillcrest is filled with incredible Bible-learning experiences kids will see, hear, and touch. Team-building games, silly camp songs around a fire, building log cabins, tent pitching, and Bible adventures are just a few of the activities that kids will participate in at Camp Hillcrest! Plus, kids will participate in a missions project called "Kids' Clean Water Project" to help bring clean water to kids around the world!
On the last day of camp, parents, grandparents, and friends are invited to join us for our campfire-style celebration of God's love followed by a meal that you won't want to miss.
** Childcare for before 9am and after 3pm for an additional $15
Cost is $35 per child and includes a shirt and lunch
Preschool aged-6th grade students are welcome to join us at Camp Hillcrest!
Camp Theme: Jesus is the Light
Memory Verse: Jesus said, "I am the light of the world" John 8:12

Wednesdays, Beginning March 6, 6:00pm-7:30pm
Dig In Deeper: Life of Jesus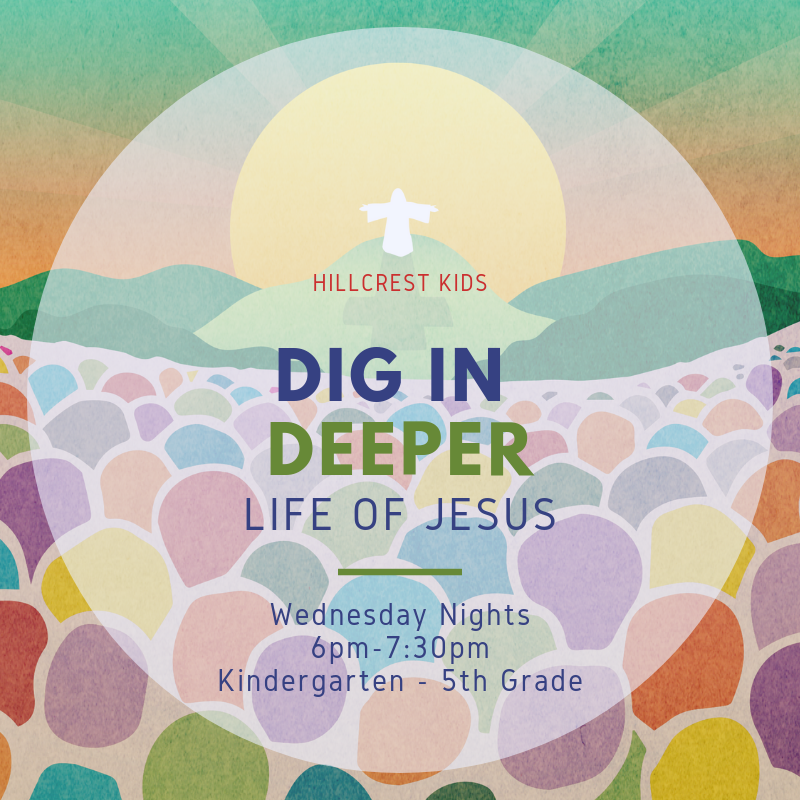 Kinder thru 5th grade. Dig in Deeper is our new Wednesday night program based off our Sunday Kid's Church curriculum "Dig In: Life of Jesus." Each Wednesday we will dig deeper into the life of Christ through worship, games, scripture, crafts & science experiments. Kids will have the opportunity to earn prizes, participate in theme nights, and help lead our family night celebration in May. Program is FREE. Preschool childcare available.
Click here to register today!